We have created a Klangbadsoundcalender for you:
There will be a new sound piece up for download for every day up to christmas.
Please follow this address to listen:
Among the sound pieces will be recently published ones, old Klangbad treasures and secret unpublished ones from the draw.
Enjoy......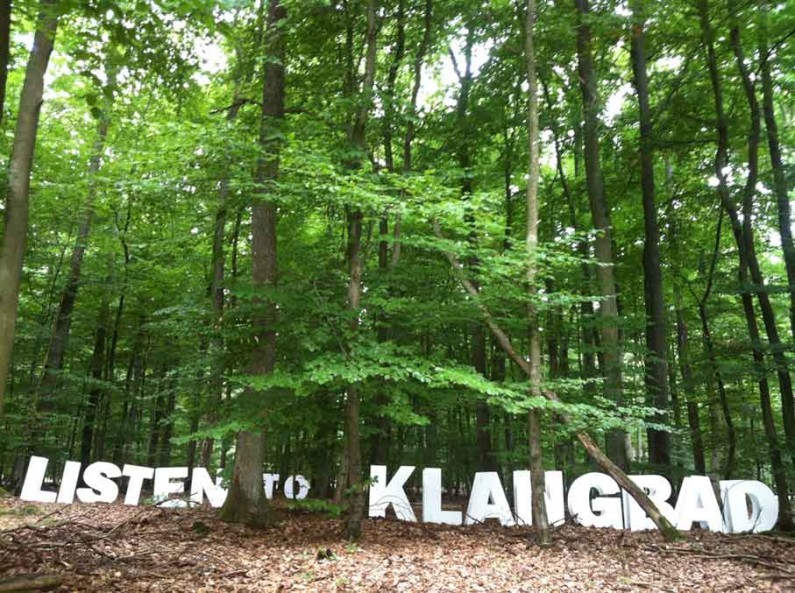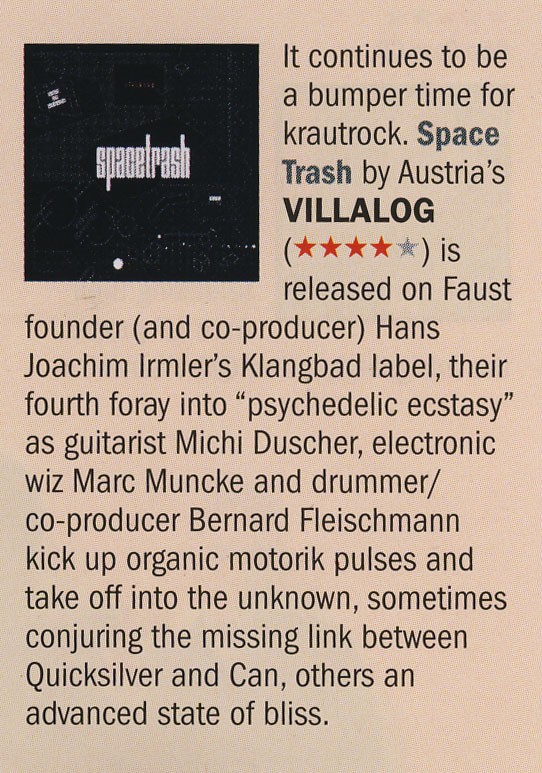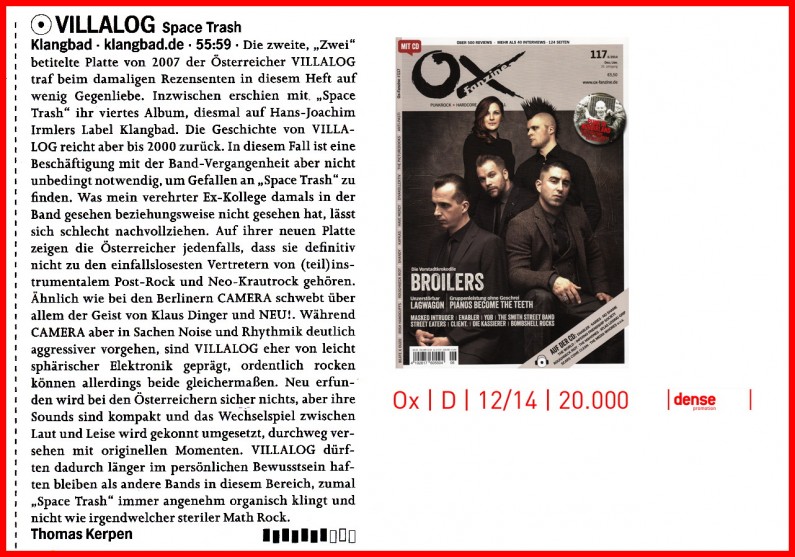 DJ Marcelle/Another Nice Mess reviews
http://jungle-world.com/artikel/2014/48/51009.html
http://flipsideflipsidereviews.blogspot.de/2014/11/dj-marcelle-meets-mos...
"In Zeiten wie den unseren, in denen nur noch freiwillig das Radio anschaltet, um Musik zu hören, wer sich gerne schweren, schmerzhaften Bestrafungen unterzieht, und in denen Musik einem unaufhörlichen Prozess der Verdorfdeppisierung unterworfen ist und das Ziel die Herstellung totaler Konformität, ist das Hören der sagenhaften Platten von DJ Marcelle wie eine abenteuerliche Expedition in eine zauberische Parallelwelt… Das Chaos der Welt – es wird von Marcelle auf ihren Platten dankenswerterweise für uns vorsortiert und liebevoll geordnet, alles harmoniert wunderbar miteinander." Thomas Blum, Tageszeitung Neues Deutschland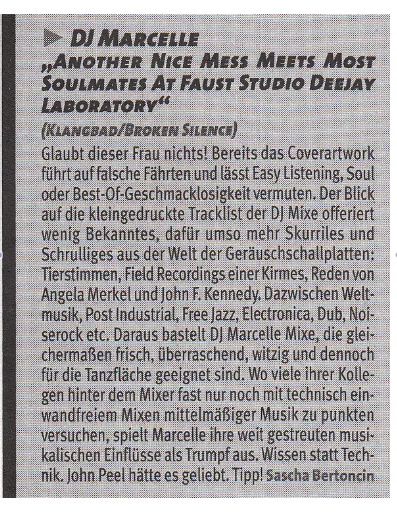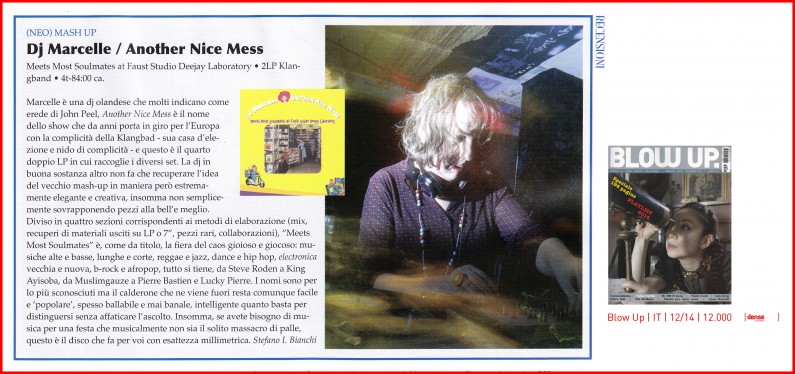 Hans Joachim Irmler Live Dates
December seems to be a busy month for Hans Joachim Irmler.
He is on tour together with Gudrun Gut and Dec18th sees a double concert of him together with Gudrun Gut and another concert with Jaki Liebezeit.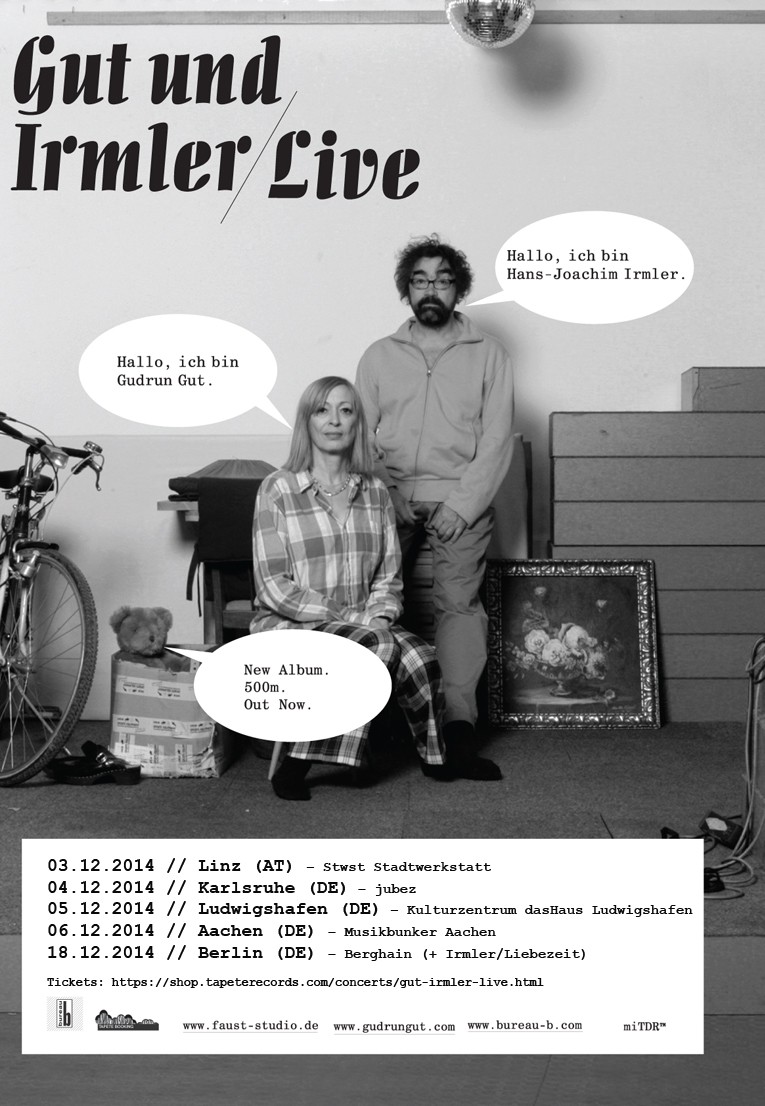 This friday the new record from Austrian band villalog will be available.
"Space Trash", the fourth album by Austrian band villalog, plays with bending and distorting coordinates of space and time. Whereas their last album, "Cosmic Sister"(2009) was more of a space-disco sci-fi trip, the new album, "Space Trash", looks pointedly towards the earth. As always, villalog's musical starting point is found somewhere between Kraftwerk and Can, Quicksilver Messenger Service and Spacement3. Doesn't work? Sure it does! Founded in 1999 as a duo, Michi Duscher (guitar) and Marc Muncke (electronics) were subsequently joined by drummer Bernhard Fleischmann, who also produced this latest album.
Klangbad67 CD + LP + DOWNLOAD
Available: 14.11.2014
Attention: CD will be shipped immediately, LPs will be shipped starting at Nov 26th.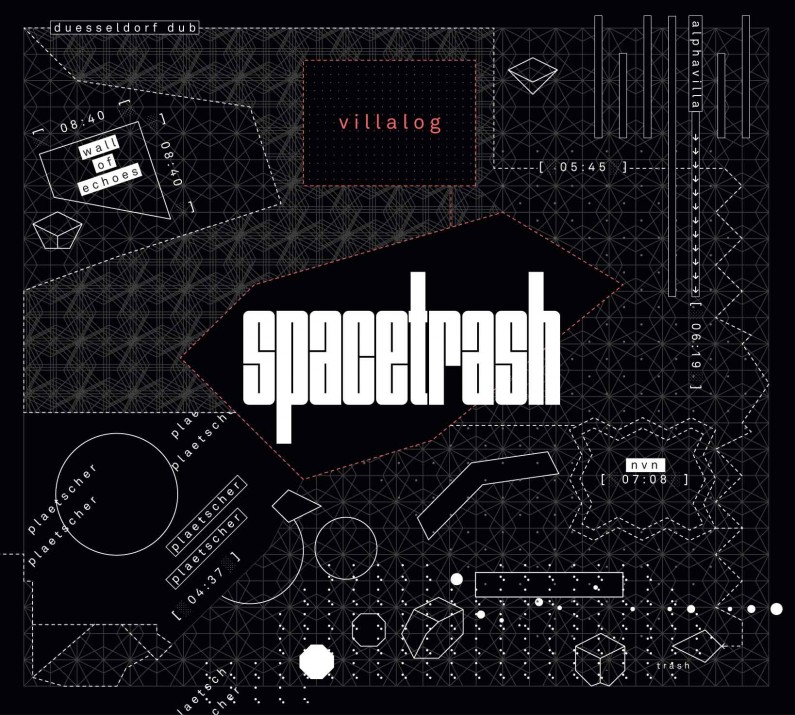 DJ Marcelle/Another Nice Mess @ WORK
Get an inside view into the work-life and passion of DJ Marcelle/Another Nice Mess.
Always on the run to grab new records with inspiring music, to bring them every weekend to another country, another venue, another festival to make us dance and listen to some music we have maybe never heard of.
This short film about DJ Marcelle/Another Nice Mess was filmed and edited by Ben Mergelsberg.
Sunday, September 21, 2014 - 21:23
DJ Marcelle/Another Nice Mess meets most soulmates at Faust Studio Deejay Laboratory
We are pleased to announce a new DJ Marcelle/Another Nice Mess double LP out on October 31st 2014.
Catalogue Nr: Klangbad66LP
This time DJ Marcelle/Another Nice Mess "meets most soulmates at Faust Studio Deejay Laboratory".
And for the first time you can listen to her own tracks, solo and together with her soulmates.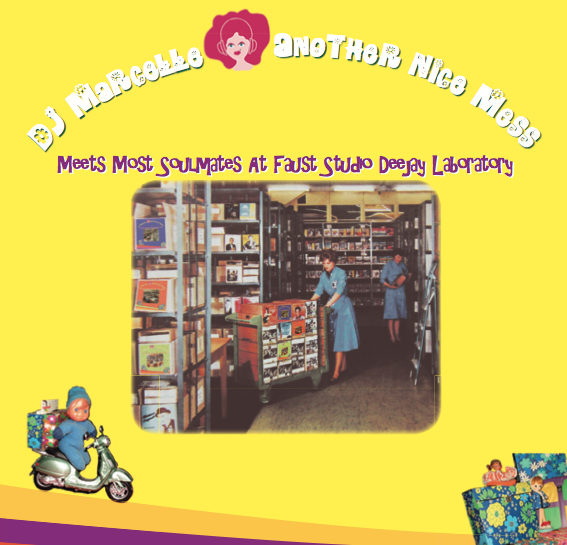 Upcoming monday, 11.08.2014, from 15-16h there is radio feature about "10 Jahre Fauststudio' on german radio broadcast SWR2. Don´t miss it.
Release of Irmler+Liebezeit - Flut
And the next big news: Today is the release date for Irmler+Liebezeit record called "FLUT". You can buy the CD directly in our brand new webshop. The silk-screen LP with poster and download coupon will be shipped at the end of July. Special this month: No shipping costs in Germany and only 4€ for international shipping.
PLEASE NOTE: At the moment you can only buy the record "FLUT". In a few days all other items will be listed in the webshop and available for purchase.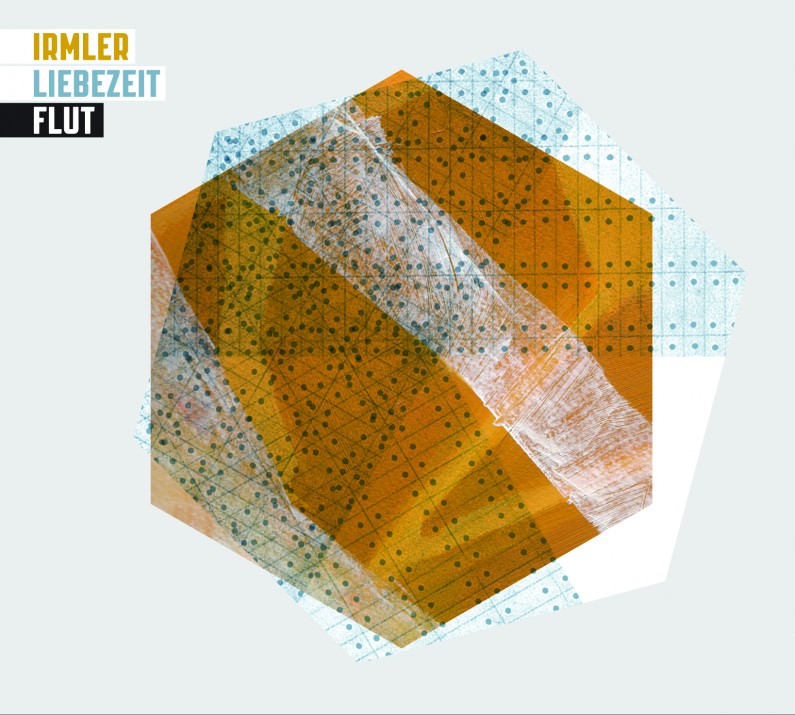 Pages